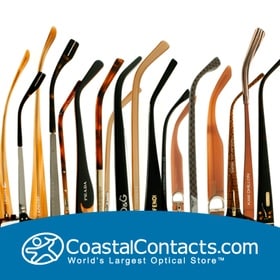 1. Sign up for Ebates here (You get $5 free after your first purchase) They're also offering 7% cash back at Coastal Contacts.
2. After you signup, search for Coastal Contacts at the top. Then click "Shop Now."
3. Find a pair of glasses that you want that doesn't say "coupon not applicable."
4. Click frame details and then click "Order Now." Enter your prescription and add to cart. At checkout apply the coupon code: FREEDOM and you'll score some free glasses! Your final cost should be $10 – $15 for shipping.
NOTES:
Keep in mind that if you have received a free pair of glasses from Coastal Contacts before, then you are not eligible for this promotion.
Your free pair of glasses will include the standard 1.5 index lenses, which accommodates up to a -8.00. However, if your prescription is over a + or -2.00, you may want to upgrade to a thinner, lighter lens. If you choose to upgrade your lenses, or have selected progressives, Transitions or a tint, you will see the cost of the upgrade in your order total.
If you need help with your web order, call the optical staff at 1-866-333-6888