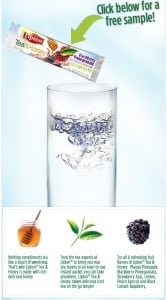 Note: This came out around March, but I was able to request another one, so this might have reset.
Click here to visit the Lipton facebook and like them. Then on the "Tea Mixes" tab, click the "Get Your Free Sample" at the top. Then just fill out the form on the next page. Allow 6-8 weeks for delivery 🙂
image credit: Lipton; thanks Kristie!