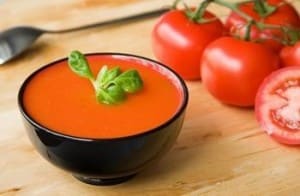 by Amanda S.
Tomato Bisque soup doesn't have to take an hour to make and it's a delicious meal that has a lot of variations with just a little bit of ingenuity. The following recipe is great any time of year. Add a loaf of crusty bread for a rustic lunch or dinner treat. The beauty of this recipe is how simple it is to make.
The Basic Tomato Bisque Recipe In Half The Time
Serves four. Total cooking time: 10 minutes
2 – 10 3/4 oz. cans of condensed tomato soup
2% milk (measure 2 – 10 3/4 oz. using soup cans)
1/2 cup good quality white wine
1/4 teaspoon fresh tarragon leaves (or substitute dried tarragon)
1/8 teaspoon fresh thyme (or substitute dried thyme)
1/8 teaspoon dried celery seed
1 packet dehydrated beef broth
1 tomato seeded and chopped into small bits
1/2 heavy cream or evaporated milk
1. In a large saucepan, place condensed tomato soup, milk and white wine.
2. Blend well over medium heat.
3. Add white, tarragon, thyme, celery seed and beef broth.
4. Bring to a very slow boil and reduce heat.
5. Stir in heavy cream and tomato bits.
6. Cook another 2-3 minutes.
7. Serve in small 4 oz. cups.
8. Garnish with a dollop of sour cream or creme fraiche.
Quick And Easy Variations
Tomato bisque soup is a great base for crab bisque. Simply add crab or lobster claw meat (picked clean) to this tomato bisque base. For a tomato-shrimp bisque, add shelled, cleaned and deveined shrimp. Delicate fleshy white fish can also be added. For tomato-corn bisque, add 1/4 cup drained canned whole kernel corn. For a Middle Eastern touch, serve tomato bisque soup with a spritz of curry powder or delicate strands of saffron and a few minted peas.
Presentation Is Everything
An ordinary weekday night meal always has more flair when tomato bisque soup goes "artsy". Place about a teaspoon of sour cream in the center of soup bowls and use a knife to create swirls. Top with two or three toasted pistachios for garnish. As a soup course for a three-course dinner for guests, make the tomato bisque presentation spectacular. Before serving, flame with brandy. Another delightful garnish for tomato bisque soup is fresh basil leaves set into the center of each bowl. The scent of the basil and soup is irresistible.