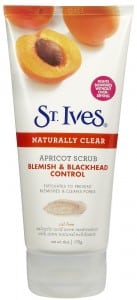 Click here to visit the St Ives facebook and allow their app/ like them.
Then on the "St Ives Blockbuster Poster" tab, agree to their terms and click enter
Upload a "Fresh Face Photo"
Select a friend to share the offer with
Submit your creation
Step 5 gave me an error, but when I closed it, it let me fill out the form to request a free sample.
Done!
You'll also be entered to win a trip to L.A for you and a friend.
Image credit: St. Ives; thanks Michael