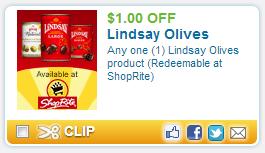 Note: It says redeemable at ShopRite, but that's not a restriction. It's a manufacturer's coupon so it can be used at other stores. They're just suggesting you use it there 🙂
Starting 12/9, Walgreens will have their Lindsay Olives 5 or 6 oz on sale for $0.99 with in-ad coupon. Here's how you can score it free:
1. Click here to visit the Coupons site and click the "Local Coupons" tab at the top.
2. Then change your zip code to 10038.
3. Click the "Coupons" tab and then the "Food" category.
4. You should then be able to spot and print the coupon above good for $1 off Lindsay Olives (Right column after you click "show more coupons" at the bottom)
5. Use your coupon to score this free 🙂
Image Credit: Coupons