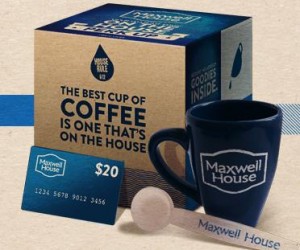 Note: Mobile users might have to choose the "view desktop" option on your phone to view tabs.
Reminder about this one. Click here to visit the Maxwell facebook and like them. Then on the "Perk Up Game" tab, click "Play For Your Perk Up," and fill out the form to register. Finally play their instant win game to see if your a winner. 800 total (100 per week) will win a Maxwell prize pack containing a coffee mug, coffee scoop, $20 cash card, and a coupon for $1.50 off Maxwell single serve products.
If you don't win today, no worries because you can try daily through April 25th.
Image credit: Maxwell