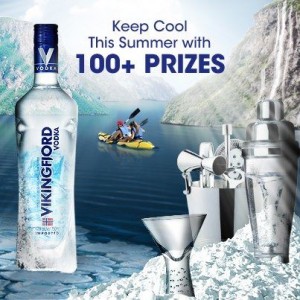 Note: Mobile users might have to select the view desktop option to see the tab. Also if you're uncomfortable allowing an app, keep in mind you can make a separate facebook just for freebies.
Click here to visit the Vikingfjord Vodka facebook and like them. Then on the "Sweepstakes" tab, scroll down and fill out the form to enter their sweepstakes. You have to allow their app, but can delete it right after (directions below). There will be a total of 116 winners. You'll have until May 15th to enter this one.
Want To Delete An App?
On your facebook homepage, click the wheel next to your name on the top right
Click "Privacy Settings"
Click "Apps"
Finally just click the x button to anything you'd like to remove
Prizes
Two (2) Grand Prize Winners will each receive one (1) Iron and Acrylic Ice Display
Two (2) Grand Prize Winners will each receive one (1) Portable Ice Maker in Stainless Steel 
Two (2) Grand Prize Winners will each receive one (1) Illuminated Reusable Ice Luge Kit
Ten (10) First Prize Winners will each receive one (1) set of 6 martini glasses
Ten (10) First Prize Winners will each receive one (1) Gatsby Bar Tools Set with Bucket
Twenty (20) First Prize Winners will each receive one (1) $50 iTunes Gift Card
Twenty (20) First Prize Winners will each receive one (1) Electric Cocktail Mixer
Twenty-five (25) Second Prize Winners will each receive one (1) set of ice shot glasses
Twenty-five (25) Second Prize Winners will each receive one (1) King Cube Round Ice Cube Tray
Image Credit: Vikingfjord Vodka