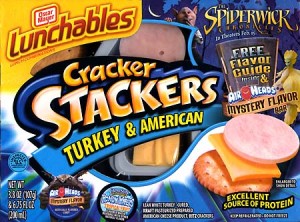 Note: They're limiting this to kids aged 6-17, so if you're entering for your child, be sure to put their age and not yours
Click here to visit the Lunchables site and let it load. Next click "Enter Here" and either register or login. They'll instantly tell you if you've won 1 of 1,000,000+ prizes. You can enter daily through February 27th, 2014. Good luck!
Prizes
(4,000) NERF SUPER SOAKER Switch Shot
(6,000) TRANSFORMERS Prime Voyager Beast Hunters Class Figure (or other Transformers prize)
(8,000) FURBY Party Rockers
(1,500) TWISTER Skip It Game
(3000) Kinect Ultimate Sports Kinect for Xbox 360 Game
(4,000) NERF Firevision Football
(1,500) JENGA Boom game
(1,000,000) Second Prizes/ARVs: Winner's choice of one TV show video download from the Hub Television Networks from the following two options: (250,000) MY LITTLE PONY or (250,000) TRANSFORMERS Beast Hunters.
Image credit: Lunchables