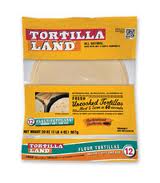 Note: Mobile users might have to select the view desktop option on your phone to see the tab
Click here to visit their tab and fill out the form. The first 5,000 to do so will score a free package of 12 or 18 count fresh uncooked Tortillaland flour tortillas or 14 or 24 count uncooked Tortillaland corn tortillas.
==> P.s don't forget, you can signup to get a text message as soon as we post a freebie.
Image Credit: TortillaLand