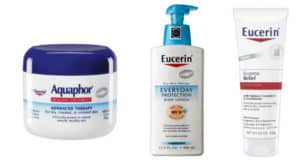 Check Out This FREE SAMPLE of Eucerin Lotion
Winter is so hard on your skin! The lack of moisture and cold temps can lead to dry, cracked, flaky skin that is both embarrassing and uncomfortable. If you are experiencing dry skin, then you have to check out this awesome Eucerin Lotion sample offer! Eucerin body lotion is an incredible product that adds moisture back into your skin, makes skin look healthy, and eases the discomfort of dry, tight skin.
Eucerin creams and lotions work on your hands, arms, feet, and more! Basically, you can apply it anywhere you have skin and you should notice a significant improvement in your skin's dryness. Getting your FREE lotion samples is so simple! In order to get your lotion samples, you must first submit a valid email address. After you have submitted your email address, you need to enter your name, mailing address, etc. Then, you need to submit the request to get your freebies. Don't miss out on the other skin care freebies available as part of this offer!
Please note, you must be 18 years of older to receive this freebie offer. You must also be a resident of the United States in order to qualify for this awesome skin care freebie offer!