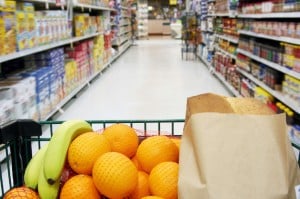 by Kelly Garcia
Planning meals for a large family can be a challenge when you're on a budget. Most money-saving tips for grocery shopping mention coupons and special deals. However, there is never a guarantee that a coupon will be available to help you out, and your local ads may not feature foods that offer you a way to produce an adequate number of meals. When you can't find the items you need on sale and coupons are sparse, there are other strategies to help you get more for your money. With a little planning, you can cut your grocery bill drastically even without a single ad price or coupon. Here are three effective ways to help you stretch your grocery budget using regularly priced items.
The Main Dish Budget Plan
Main dishes for evening meals are often the focus of the entire grocery trip, and they can often be the most expensive to prepare. To keep them as low-cost as possible, plan your dinner menus around inexpensive staple groceries such as rice, pasta and beans. Some budget-friendly main dish options include spaghetti with meat sauce, chili with beans, stir-fried veggies with rice, pasta or rice-based casseroles, cold pasta salads and homemade soups.
Multiply Ground Meat Servings
Most people eat larger portions of meat than their diet requires. It's very easy to stretch servings of ground beef or turkey; simply mix in vegetables in equal parts or less. Use a food processor to finely grind any raw or cooked vegetable with a mild flavor such as cabbage, onions, peppers, squash, corn or starchy beans. Add this mixture to the ground meat before measuring and cooking, and you won't need to use as much meat in the recipe. You'll also be serving fewer calories and less fat. This is a smart way to make use of leftover vegetables, and it's also a great way to sneak extra vegetables into a main dish when dealing with finicky eaters. Once other ingredients are added, they may not even notice any difference.
Be Your Own Baker
The cost of making your own bread is substantially less than purchasing it already made. Since bread tends to be an everyday necessity in many households, saving money on this one product can have huge effects on your grocery bill. Make dough and bread in batches and freeze for convenience. As an alternative, buy your bread from discount stores instead of your regular supermarket. Dollar stores and close-out stores often have bread products at reduced prices. These have usually been pulled from grocer's shelves to make way for fresher product. The breads are still within date, and they can be frozen for later use.
Image Credit