UPDATE: Some readers have had a message that says "credit expired" when they checkout. Others have gotten it though, so feel free to try it.
1. Click here to visit the Living Social site and either sign in or register
2. Now click here to visit the MSN site.
3. Hover over the slide of the Ford Fusion and keep clicking the next arrow until you see the slide below. If you get a blank spot, try clicking the link again.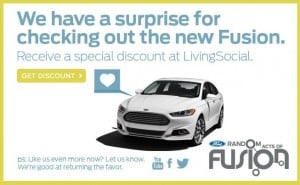 4. Click "Get Discount" and you're done! The credit will be applied at checkout when you purchase something. I've seen people get as high as $30, which should equal a freebie 🙂
Image Credit: Amazon